Green Paper
Our Green Paper provides the perfect summary of SIT's commitment to ESG.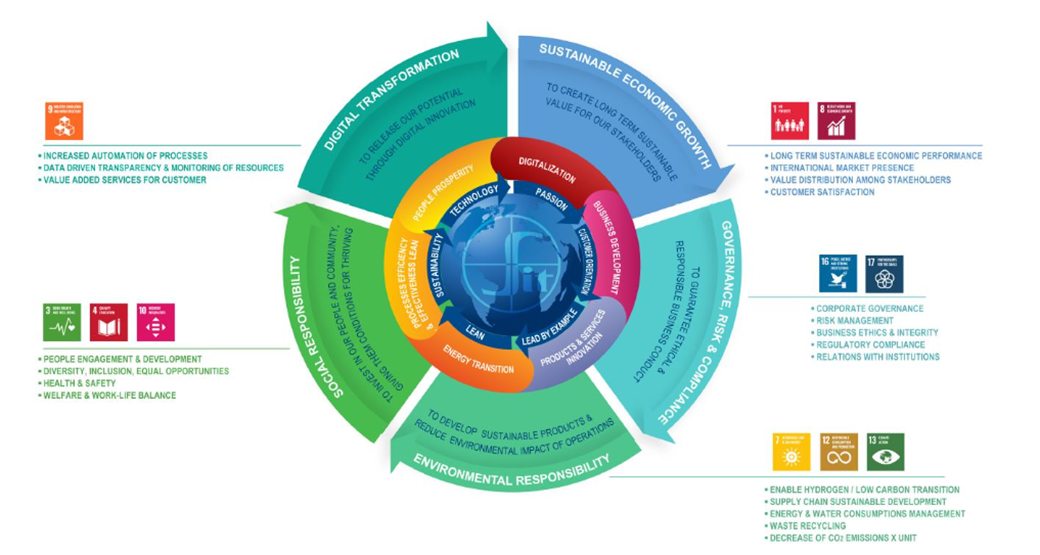 The group's Green Paper draws inspiration from its updated mission and vision, and the values linked to them, including sustainability, and has taken on an increasingly important role as a result. These topics were cross-referenced with the guidelines for the group's Strategic Plan: business development, product and service innovation, energy transition support, the improved efficiency and effectiveness of lean business processes, the well-being of human resources and the community, and digital transformation.
The divisions involved in business development and strategic marketing activities, the R&D departments, and the Operations department play a key role in the group's sustainable development journey, and are supported in the process by several enabling divisions and departments, including: Human Resources, Administration, Finance and Control, Governance, and Digital Transformation.
The Company has to interact with all of its stakeholders on an ongoing basis to define its ESG objectives. These stakeholders play a key role in the structure of SIT's manifesto and help to define the group's materiality topics. These topics are identified using appropriate tools that engage stakeholders within and outside the group, and by adopting an approach that views the NFS materiality analysis as a key business management tool.
The Green Paper is structured in line with the dimensions outlined above, and comprises five Sustainability Pillars. Two additional points have been added to the ESG (Environmental Responsibility, Social Responsibility, and Governance) topics: the creation of long-term sustainable value for all stakeholders, and constant efforts to achieve digital transformation and innovation.
Finally, the Green Paper defines a specific mission for each pillar and for the Company's main ESG commitments, and links these commitments to the UN 2030 Agenda ESG goals.
The circular and "rotating" nature of the Green Paper seeks to convey the concept of an ever-changing environment and the links between all relevant factors.