Sustainability for SIT
SIT is a leader in the creation of smart solutions for the control of environmental conditions and consumption measurement for a more sustainable world and operates, globally, in key technology sectors that enable energy transition. ESG factors are inextricably linked to SIT's business model, which aims at "sustainable success": a full convergence between strategic goals and environmental, social and governance commitment.

SIT is aware of the growing importance of sustainability topics around the world and made a commitment in 2018 to monitor the environmental, social and economic impacts of its business activities, with a view to continuous improvement.
Each company in the group pursues the goal of creating value for all stakeholders by combining economic performance with the production of quality products and attention to social and environmental sustainability. At the same time, it promotes ethics and integrity and ensures attention to human resources and to local communities.
Given that the achievement of the Company's strategic business objectives is inherently linked to its environmental, social, and governance commitments, SIT has begun a comprehensive sustainability journey in recent years.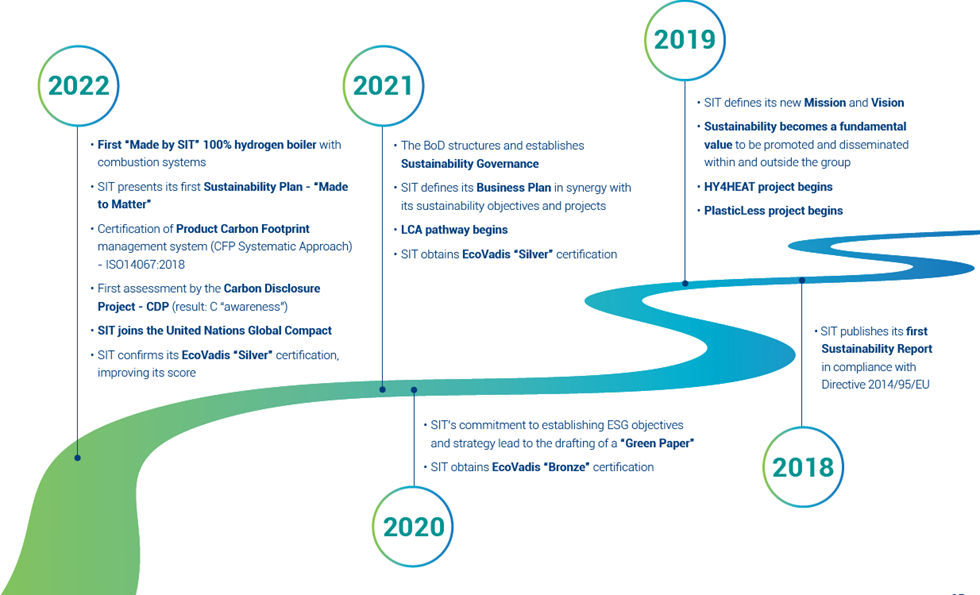 Indeed, through its Non-Financial Statement (Sustainability Report), SIT intends to make its stakeholders aware of its commitment to defining and achieving certain economic, social and environmental sustainability objectives.
In the preparation of the Sustainability Report, in addition to its own activities, SIT has carefully considered the interests and expectations of stakeholders. In particular, every two years, the Company conducts a materiality analysis to identify the sustainability topics that are most relevant to the Company and its stakeholders. The materiality analysis summarizes the priorities of SIT S.p.A.'s senior management team, employees, and all categories of stakeholders with whom the group interacts when doing business. It identifies relevant topics that provide an understanding of the Company's activities, their performance, and their economic, social and environmental impact. In particular, In relation to material topics, the identified impacts were evaluated based on the following criteria: positive/negative and effective/potential.